Welcome
SLCPAAA is a 501(C)(3) organization formed to "enhance relations between the community and the Sugar Land Police Department" and to "assist all law enforcement agencies".
Graduates of the Sugar Land Police Department's Citizens Police Academy are eligible to join. The Academies are held at the Sugar Land Police Department. For more information check out the City of Sugar Land Citizens' Police Academy web site.    Already attended the CPA class and would like to sign up?  Please find membership info and signup on the FAQ page.
What do we do?
Members of SLCPAAA help the police department with several volunteer activities (see Photo Gallery).
General membership meetings are held at 7:00pm in the Sugar Land Police Department training room on the second Tuesday of each month. Alumni business is conducted and guest speakers educate and inform members on various law enforcement related topics. Board meetings are held at that location at 6:30pm on the first Tuesday of each month.

Saturday June 2nd, 2018 – The 8th Annual LEMR – Law Enforcement Memorial Ride – join us in observance and ride with the Sugar Land Police Motorcycle Units…
Save The Date!  In honor of fallen police, President John F. Kennedy declared:
Whereas, by a joint resolution approved October 1, 1962 (76 Stat. 676), the Congress has requested the President to designate May 15 of each year as Peace Officers Memorial Day and the calendar week during which such May 15 occurs as Police Week:
Now, Therefore, I, John F. Kennedy, President of the United States of America, do hereby designate May 15, 1963, and May 15 of each succeeding year, as Peace Officers Memorial Day, in honor of those peace officers who, through their courageous deeds, have lost their lives or have become disabled in the performance of duty.
Please join us at RHD from 2pm to 4pm for ONSITE REGISTATION ! (Pre-registration closed Friday night 6/1 after midnight).
$10 Raffle Tickets will be available for prizes!
Note: Online Registration NOW AVAILABLE!
| | |
| --- | --- |
| NOTE: First 75 riders eligible for a free t-shirt. Please use one of the Single or Double Rider links above if you are riding.  Thank you for your support! | Not riding, Like to donate? |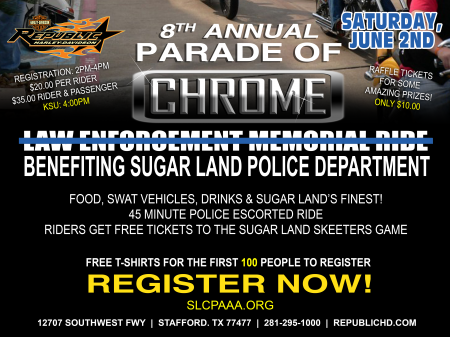 Saturday June 2nd, 2018 Event Timeline:
| | |
| --- | --- |
| 2-4PM | Onsite registration |
| 3:50-4:00PM | Announcements |
| 4:00-5:00PM | Law Enforcement Memorial Ride |
| 6:05PM | Skeeters' Game |
NEW!  Video from 2017's LEMR Ride!
Watch a previous LEMR Ride video invitation, from 2015's memorial ride… Note, 2018 8th annual tickets are $20 single, $35 double:
Watch the 12 minute video produced by Guyton Photography, volunteer photographer on a previous Law Enforcement Memorial Ride.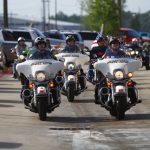 Click a logo above for sites:
SLPD CoSL, SLPD fb, SLCPAAA fb
If you are a FACEBOOK user, check out our SLCPAAA FACEBOOK group page.
For frequently asked questions about the SLCPAAA, go to our Frequently Asked Questions (FAQ) page.
Donations accepted as well as SLCPAAA Dues online at the FAQ page.